Ground Units :

Ground units includes tanks, artilleries, and working units.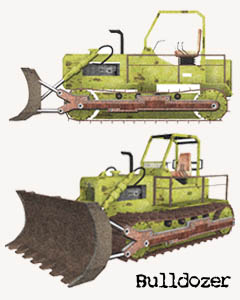 Bulldozer: Warning! you have no more bulldozer.
This is the unique contruction unit. It permits to level down an area before a building can be erected. This is also the only device able to capture an enemy headquarter and thus to acquire enemy technology. Keep in mind : bulldozer is a key unit, allways keep a factory operationnal with sufficient resources to produce at least one bulldozer.


Unit performances:

| | | | | | |
| --- | --- | --- | --- | --- | --- |
| life: | 75 | Armor: | 20 | Speed: | 1 |
Production cost:

| | | | | | |
| --- | --- | --- | --- | --- | --- |
| gold: | 2000 | oil: | 5000 | iron: | 3000 |
This page has been created with the participation of Ray Rong from Vancouver
All rights reserved Tactical Soft 1995 - 2005